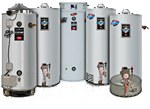 After heating and cooling, water heating is typically the largest energy user in the home because it is necessary for so many domestic activities. The capacity of a water heater is an important consideration. The water heater should provide enough hot water at the busiest time of the day. We offer a wide variety of electric, gas and tankless water heaters.
Ruud
Ruud Water Heating is the industry leader for total water heating solutions. In fact, Ruud is the brand with extensive product offerings covering conventional tank-type water heaters, tankless water heaters, replacement parts and accessories for all categories–making us a one-stop solutions provider.
All Ruud water heaters meet and exceed rigorous industry standards for quality and reliability. From raw material delivery to finished product assembly, each phase in the manufacturing process is effectively overseen to ensure the highest quality in water heater manufacturing. Ruud products are frequently tested and certified by various government and third-party testing labs to ensure quality standards.
Rinnai Tankless Water Heaters
Never think about your hot water needs again: Innovative technology provides an endless supply of hot water whenever and wherever it's needed–even for simultaneous uses at multiple fixtures. Showers and baths? Absolutely. Laundry and dishes? No problem. Prioritizing activities and scheduling hot water use is a thing of the past.
Because they operate on an as-needed basis, Rinnai Tankless Water Heaters can use up to 40 percent* less energy than traditional systems, which helps reduce utility costs. This efficient operation can also contribute to a favorable HERS rating and optimize LEED certification.
On top of efficiency, our tankless water heaters feature a copper heat exchanger for unparalleled quality, durability, and safety. And their compact design offers substantial space savings in the home.
*As based on the average cost to run an electric tank water heater per the DOE Average Energy Costs (www.doe.gov).
We're proud to install Ruud Water Heaters


We're proud to install Rinnai Water Heaters

Click Here
for Ruud Product Information

Click Here
for Rinnai Product Information
Frequently Asked Questions